During our work in East St. Louis we attended a meeting of the Financial Oversight Committee for the East St. Louis School District. During that meeting Judge Wharton gave a passionate speech supporting tennis and putting in context the tough environment awaiting many of these kids. Its worth a listen to the audio link below and a read of the article on the Judge below. He is an interesting character.
Link to story via STLToday.com
. The story is embedded below.
Judge Milton Wharton to leave bench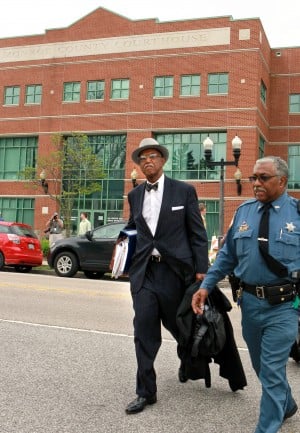 Wharton, 65, became an associate judge in St. Clair County in 1976, and has remained on the bench for 35 years.
His unmistakable style is a throwback: bow ties, cigars, fedoras. His judicial style has been just as unique.
"He handled things differently than any other judge," said John O'Gara, a defense attorney and St. Clair County public defender. "He really cared about the defendants. He'd say to them 'Where are you going in your life?' He also never lost sight on society at large and would incorporate that into each individual."
Wharton is known for giving speeches and life advice to defendants. His wood-paneled courtroom became an intersection of race, society, and law. Wharton, a black man, often uses history to plead with the defendants - many of them young, black men from East St. Louis, his hometown - to steer away from crime. He does everything from opine on a defendant's hair, clothes, and tattoos.
"In court he was courteous to everyone in front of him and made sure everyone got a fair trial," O'Gara said. "He is a patient man. He has a very practical sense of what's going on in front of him and the impact it has beyond him," O'Gara said.
Wharton spent many years handling juvenile cases. He said on Monday that his work there was the most fulfilling.
"I still get thank you notes from children I can't remember," Wharton said. "They are now adults who want to let me know I had an impact on their lives."
Wharton later became a criminal judge. Most memorably, he presided over the high-profile trial of Christopher Coleman, who was convicted in May of strangling his wife and two young sons. Coleman opted to have Wharton sentence him instead of a jury. He faced the death penalty, even though Gov. Pat Quinn said he commute any new death sentence.
Wharton told a story of being a young lawyer years ago, visiting the Menard Correctional Center, the Illinois maximum-security prison at Chester.
"I saw a lot of young men, age 19 and 20, but I came away with something else I saw that shocked me: I saw old men in wheelchairs, with canes and with beards. Those were the 'lifers,'" Wharton said. "A life sentence is most potent retribution." He added: "A sentence of death may be expedient from the standpoint of the court but I also believe it would compound the tragedy that the family already has experienced, and would make me engage in a symbolic sentence of death."
Wharton, who has been teaching part time at Lindenwood College in Belleville, said he plans to continue that pursuit. His replacement will be decided in the November 2012 election.
His focus on education and young people was noticeable in 2004, when 22 year-old University of Illinois Engineering student Kyai Gibson stood in Wharton's courtroom.
Gibson was months away from graduation, but he and a pair of friends had held up a Fairview Heights dry cleaner that spring.
Wharton was in charge of his sentencing.
"I'm so sorry," Gibson said, pleading with Wharton for leniency. "I hadn't meant to throw away my life."
Wharton lamented: "There are days when you really hate to be a judge. It breaks my heart."
Gibson got seven years in prison.